A hybrid phone solution is a mixture of the hosted voice and VoIP phone systems. There is a local VoIP phone system at the office for reliance and security, which is backed up to the cloud should disaster strike.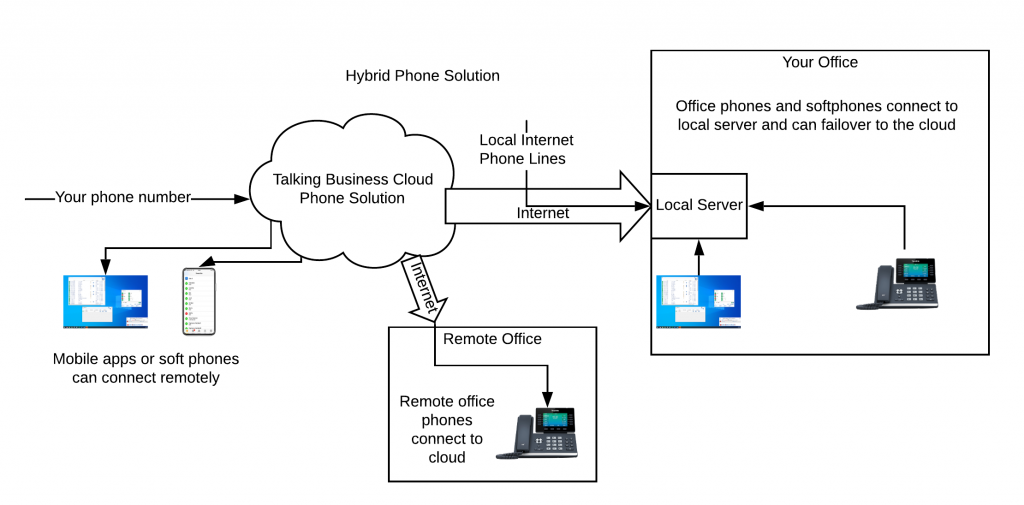 BASIC TELEPHONY FEATURES
Hold & transfer, voicemail, diverts and call forwarding, hunt groups etc. 
HOLD MUSIC
Customisable music on hold, allows company free advertising space. 
AUTO ATTENDANT
Press 1 for sales, 2 for support allows solution to distribute calls and free up receptionists. 
ADVANCED CALL QUEUING
Allow calls to be queued with callers receiving queue information like their place in the queue or the average time until call will be answered. Good for busy departments, where callers have to be held in a queue before being answered. Reduces customer agitation while queuing. 
VOICEMAILS TO EMAIL
Voicemails sent to users email, either as a notification or the full voicemail in a media format. Saves users time having to go through their own voicemails and group voicemails.  
HOTDESKING
Allows users to log in and out of handsets. Great for shift workers, and allows the company to report on users rather than handsets. 
BUSINESS ANALYTICAL REPORTING
 A complete analysis of all calls in and out of businesses. Perfect for support teams and monitoring SLA's and sales teams managing KPI's. Managers can schedule reports to be emailed to them with details on how many calls have been made and received, average talk time, total talk time, any calls that have been missed – were those numbers called back, average time call answered and many more. 
CALL RECORDING
Either ad-hoc recording or encrypted call recording that is PCI Compliant. Having calls recorded it means that the company has evidence in any customer disputes and when users are taking down important details like part codes, or address details they can check the recording to make sure they have the right details.  
REMOTE WORKING
Mobile applications, soft phones and handsets can all work remotely, with users being able to connect from home or on the road. 
PARTNER SOFTWARE
Software that connects to phone from the users PC. Allows for call control from the PC, making call handling more efficient and easier for users. 
MANAGEMENT PORTALS
Make admin changes from a web portal, such as call flows and user names.  
CRM INTEGRATION
Click to dial and screen popping integration. Speeds up dialling customers, great for outbound telesales, and screen popping is great for support allowing for the customers record to be opened automatically when they called in.